Duration
4 NIghts / 3 Days Driving
Tour Region
Tuscany & Umbria
Tuscany Supercar Test Event
May is the month that Tuscany really bursts into life, and for 2023 our Tuscany supercar test event tour takes you on a journey of discovery through some of the most beautiful regions of both Tuscany and Umbria. The cars you on test at this year's event are:
NEW for 2023
Lamborghini Huracan Tecnica
Maserati MC20 Cielo
Ferrari 296GTB

PLUS
Ferrari F8 Spider
Porsche 992 4S
Aston Martin DB11 Volante
During the tour, we will head through the most famous wine region in Italy, Chianti, stopping by the finest winery and olive oil farms, we next head through the spectacular Val d'Orcia / La Crete region, famous for its Cyprus tree-lined sweeping roads, as well as the wines of Brunello. The final drive will take us on a loop, around up to the summit of the highest mountain (and only ski region) in Tuscany, Monte Amiata, before returning back to Florence. With 6 cars to test over 3 days, you get a full half day behind the wheel of each car, and at the end, we will have a Top Gear-style scoring plus awards ceremony. Each day of driving has its own unique charms and roads, allowing you to fully immerse yourself in this incredible region of Italy
To find out more details of the day-by-day plan and how to reserve a slot, please click on VIEW FULL ITINERARY below

NOTE: In case you enquired previously, our first tour starting 9th May is now SOLD OUT, this is a second date just launched!
13 May - Arrival Florence - Welcome and Briefings
Either drive to the city or fly into Florence International airport and transfer to the 5* Superior Il Salviatino. The hotel is completely immersed in the hills of Florence in the tranquillity of a 12.5-acre private park, just 10 minutes from the historic centre of Florence and 25 minutes from the international airport of Florence. The outdoor terrace facing the Dome is perfect to enjoy a healthy breakfast with views over the city that cannot be missed.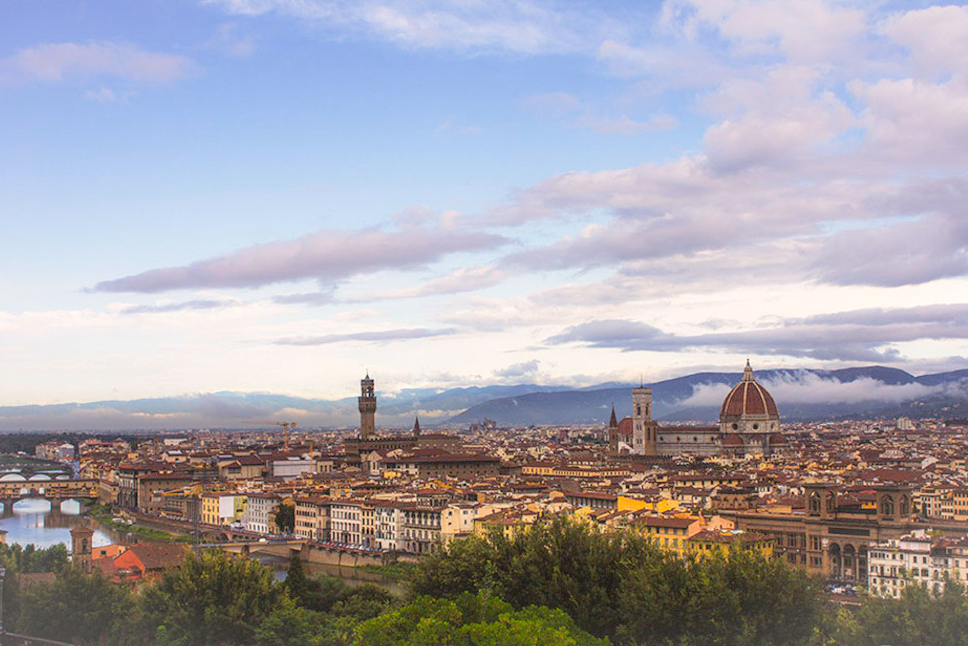 That evening at 18:00, the group will be met with welcome drinks, for a full briefing and walkthrough of the event, and where rental cars are being taken, the car handovers will take place.

Overnight Hotel: 5* Ville Agape Firenze Room type: Superior
14 May - Tour to Umbria
Today's tour is all about great drives, on open sweeping roads, easy to navigate as you get completely familiar with driving a supercar in Italy. After activating your first GPS tour, start with a run out of the city and up to Piazzale Michelangelo, where you can enjoy some of the best views down to the city. Next, you head south from Florence and into the countryside, following the scenic SR222, one of the finest stretches of the famous Route Mille Miglia. The route sweeps south, skirting the edges of Chianti Country, where you make a first stop of the day at the town of Castellina in Chianti, where morning coffees can be taken on the old town square, adjacent to the church.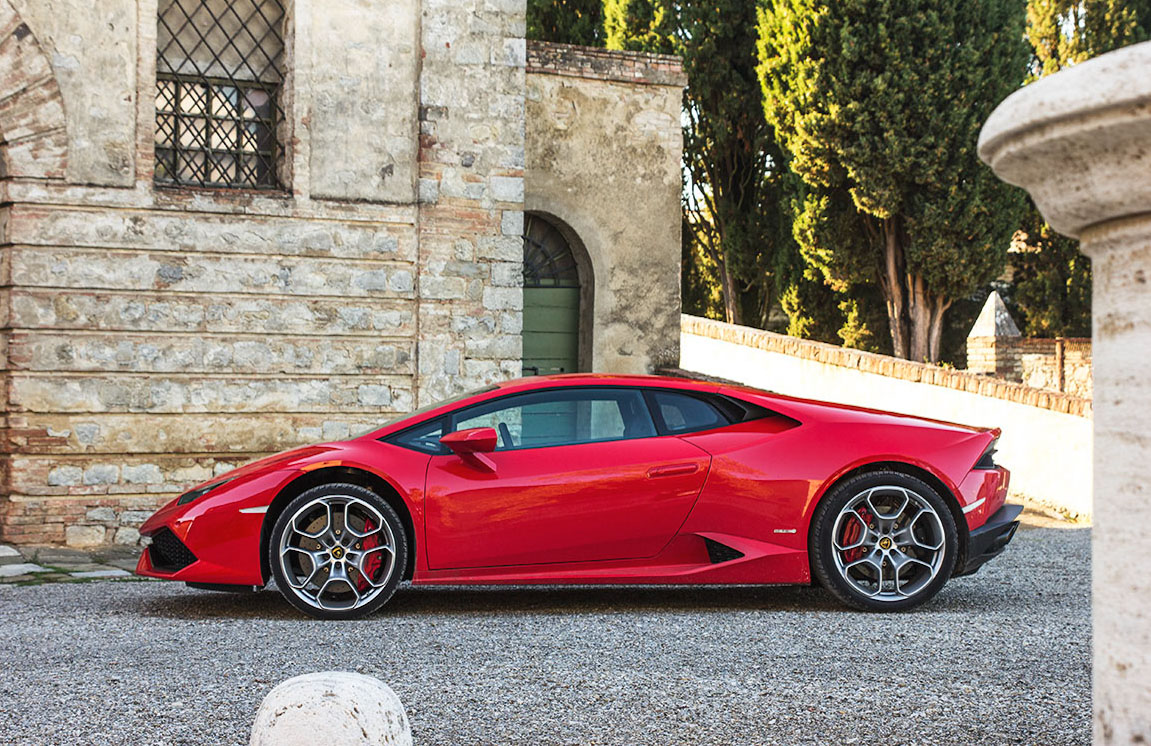 Now continue south, skirting south of Siena, and into the beautiful La Crete region, with its sweeping open landscapes. . The drive continues to the beautiful village of Monticchiello, where you will stop for lunch at the Osteria La Porta, Monticchiello. After lunch, drive the most famous Cyprus tree lined road in Val d'Orcia, the SP88 as you continue south. A short while later, it is time to visit a first winery on your tour, Salcheto S. R. L., an organic winery offering tastings, a kitchen with valley views & rooms in a 13th-century farmhouse - . Salcheto said it had become self-sufficient in 2011, making it one of the first in Europe.. Visit over, cross the border from Tuscany into Umbria, then along to the stunning Villa di Piazzano for the evening.

OVERNIGHT: 5 Star, Villa di Piazzano
15 May - Brunello wines and Val d'Orcia
Today's drive is really a tour of two halves. The morning is all about driving some of the best mountain roads in southern Tuscany, and the afternoon exploring the wine region of Brunello. Departing Umbria, the drive starts with a run through the nature reserve close by to Monte Rufeno, before looping north, and picking up the tight and twisty roads through dense forests to the summit of Monte Amiata, the highest mountain in Tuscany. We take a well-earned coffee at the Rifugio Vetta, then after, make the short 7min trek to the very summit with its iconic radio station mast, shaped like a cross.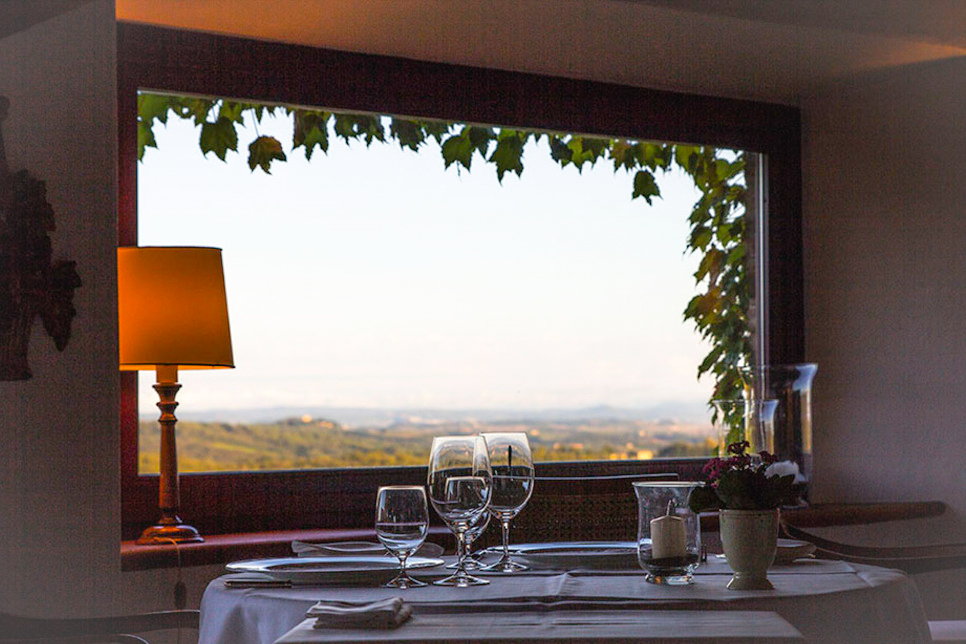 Next, we head into the heart of the Brunello wine region.. Once into the region, the next stop will be a visit at the award-winning Brunello winery of Poggio di Sotto for a tasting and degustation overlooking the beautiful sweeping landscapes of Val d'Orcia. . Next, we head to a nearby farmhouse to enjoy a master class in pasta making, where you will prepare and cook your own pasta lunch and enjoy it with the finest glass of Poggio di Sotto wine. . Lunch over,, we continue north on the sweeping roads to the west of La Crete, towards Riserva Naturale di Castelvecchio.
From here, we head northwest and into the heart of the Chianti Country region for the evening. That night, you will switch from Brunello wines to Chianti wines, with a tasting arranged of the hotel's own wines, with the opportunity to enjoy a Michelin star dinner, at the hotel's La Torre Restaurant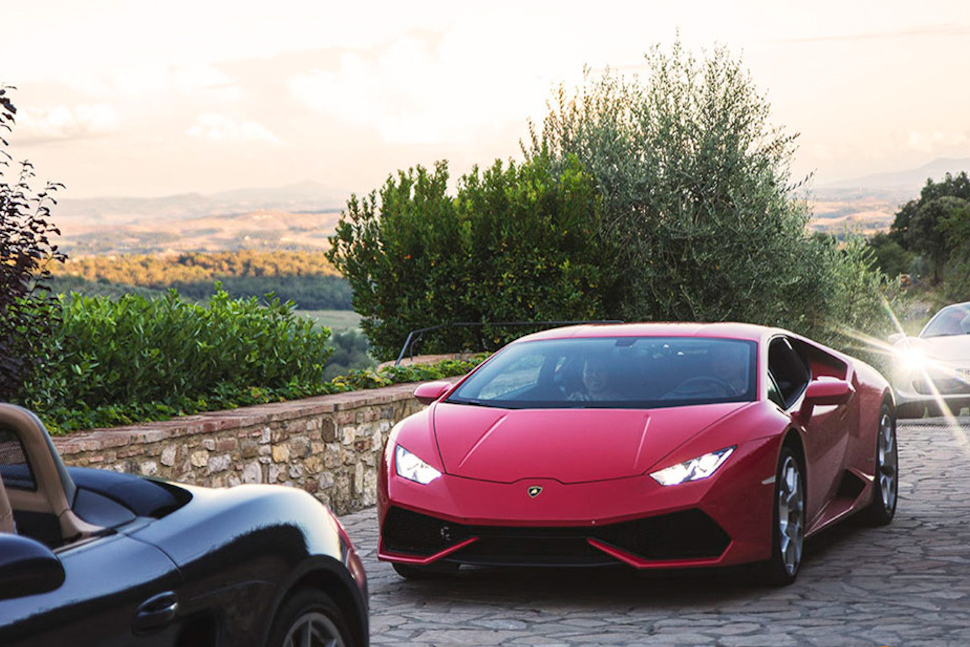 OVERNIGHT: 5 Star Superior Le Fontanella, a luxury hotel with a Chianti winery
16 May - Chianti Country
OPTION for an early morning Ballooning flight, departing hotel at 6am, soring about the beautiful landscapes of Chianti, followed by a Champagne breakfast - once group is finalised, we will share option, but typically this extra costs around 250EUR per person.
Next, our final tour features a loop Chianti Country wine region, just south of Florence.. The drive starts with a run south, towards the village of Castelnuovo Berardenga, where we will make a first stop of the day, at the winery of Felsina. Now, looping back north we head along to the Badia a Coltibuono, a Monastery, which for 1.000 years has been an important farm producing excellent wines and oils, that now produces its own wines and fine olive oils – here an olive oil tasting has been arranged. Visit over, head for lunch, and where better than Dario Cecchini's butchers' shop, where some of the finest cuts can be enjoyed with the best Chianti wines from the region.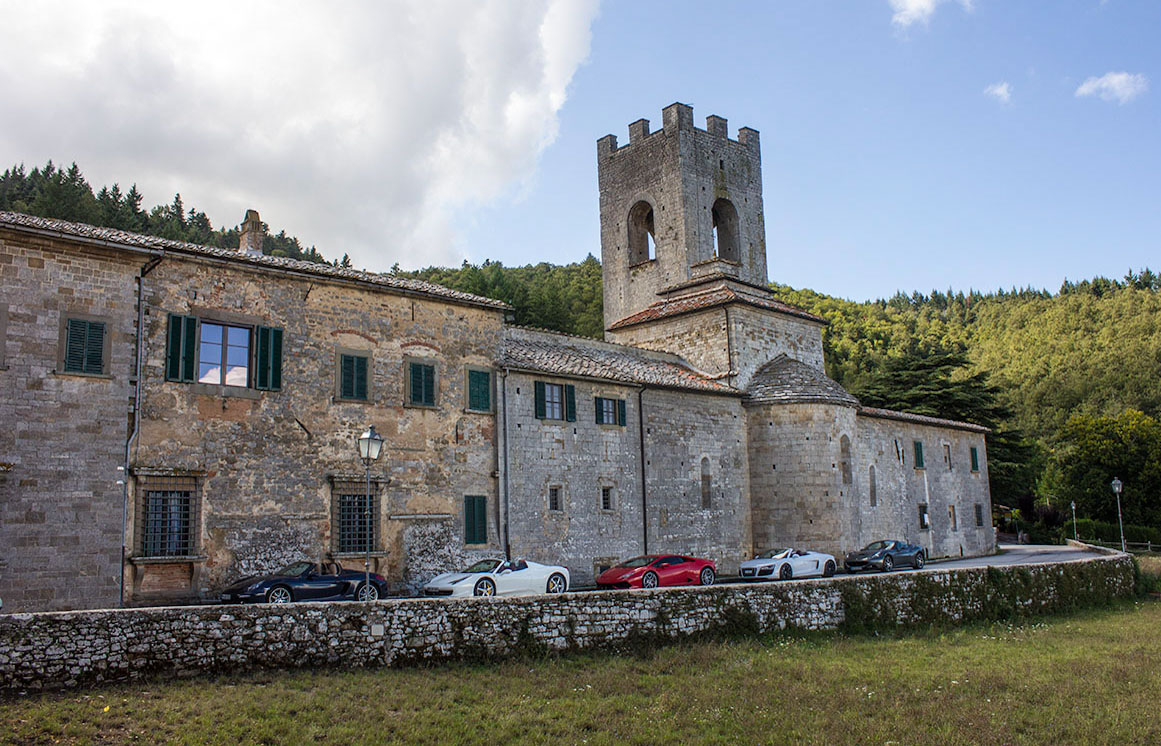 After lunch, it's time to drive a loop of Northern Chianti, stopping off at the village of Greve in Chianti, visit the delightful (and beautifully isolated) winery at Villa Buonasera, before heading to Antinori Nel Chianti Classico – this larger winery offers one of the best tastings. The Antinori family has been in the wine business since 1385 and here you will find an active and prolific wine empire that boasts two of Italy's top wines: Tignanello and Solaia, produced on a nearby Antinori estate. Finally, we head into the city of Florence, for a fine dining gala dinner on the final night - which is included as part of the package.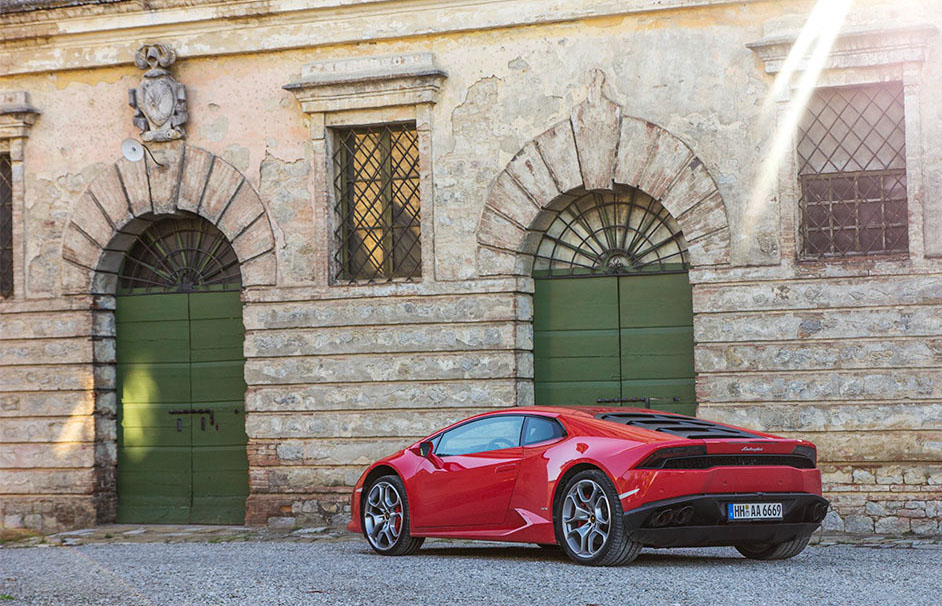 Overnight Hotel: 5* Ville Agape Firenze Room type: Superior
17 May - At leisure in Florence
On your final day, spend some more time in the city of Florence, or relax in the hotel grounds.
Some other important details/scope and reserving a spot
Package includes 4 Nights luxury accommodation, breakfasts included, 3 scenic driving tours, insurance to drive all 6 cars on the event, with a reduced franchise deposit of €7500 per couple, lead car/tour guide plus support assistant taking care of the group throughout, welcome drinks and apero on arrival, as well as a gala dinner at the end of the event in Florence. The price is based on double room accommodation and two people for each car. Note on hotels: Prices are based on twin room sharing, for separate (doubles single use) add €600 per person

Not included: Meals except the final gala night - guests are free to dine alone, or join a smaller group dinner. Fuel is paid at the end of the event based on a share of the actual consumption over the 3 drives.

Test Event is limited to 12 entrants / 6 cars so register your interest early
Booking & Deposit - if you are interested to join the group, please use the inquiry form to register your interest. Once confirmed, we ask for an initial holding deposit of 30% per car entry to secure your seat. As soon as the minimum entrants (4 cars) are confirmed for the trip, then your final confirmation will be issued, with the balance then due 4 weeks before the date of the event. In the unlikely situation that the rally is not fully subscribed, any holding deposit will be fully refunded.
To ask us a question about our 'Supercar Test Event in Tuscany - 13 May 2023' Supercar Tour / Test Event, please fill out this simple form below. One of our experienced staff members will be in touch within 24 hours.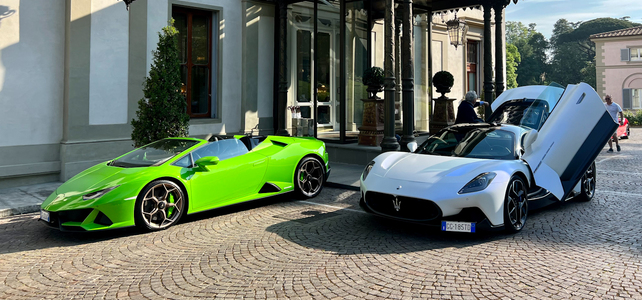 price per
person from €5500
Package Includes
(Per person, assumes 2 persons share car/room)
Fully Guided Group Tours
Test drive 6 amazing cars
4 Nights Lux Accommodation
3 Scenic Tours
Breakfasts & Parking
Tour Guides / Support Team
Welcome Drinks & Apero on arrival
Gala Night / Dinner at the end
Package Includes
(Per person, assumes 2 persons share car/room)
Fully Guided Group Tours
Test drive 6 amazing cars
4 Nights Lux Accommodation
3 Scenic Tours
Breakfasts & Parking
Tour Guides / Support Team
Welcome Drinks & Apero on arrival
Gala Night / Dinner at the end