Greatest Driving Roads
Discover the greatest drives in Europe with our Top 10 roads. All roads ratings are based on our teams personal drivng experiences, from the high alpine passes of the Alps, to the forest trails of Schwarzwald and vineyards of Chianti - all have something special to reward the driver, and can truely be considered an Ultimate Drive
IMPORTANT: If viewing the maps during the winter, some of the roads closed seasonally (high mountain passes) Google Maps will divert around - however you can still see the suggested start / end point and ignore the diversion.
If you also want to "see" our latest on the road pictures, follow our INSTAGRAM ACCOUNT where you can use the map feature to link the images to the road locations.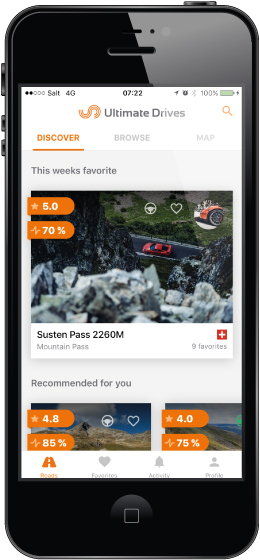 Ultimate Drives Greatest Driving Roads App Coming soon...
Provide us with your email details and we will email you when the App is live.
Get The Ultimate Drives App
If you love driving, then the Ultimate Drives Greatest Driving Roads App is for you! Our mobile app will enhance your driving experience by guiding you through the greatest roads in Europe - complete with vital stats, ratings and customer reviews.
View App WebsiteRegister Your Interest