Supercar Tours & Test Events
Supercar Driving Tours and Supercar Test Events in Europe
For 2021, we will once again organising a calendar of 5 Star Supercar Tours & Supercar Test Events on the best roads across Europe. Just in case you didn't already make a trip with us, here is what you can expect:
Best Roads - We understand the best driving roads around Europe like no one else, so you can be sure that all drives will take you on amazing roads where you really can drive and appreciate the car. If you want to get an insight into the roads, download our app of greatest driving roads at app.ultimatedrives.net. Our Supercar Driving Tours and Supercar Test events drive only the best roads.
Latest Cars - all of our Supercar Driving Tours and Supercar Test events feature current release cars - new cars for 2021 include the Lamborghini Huracan Evo, the Ferrari F8, the new Bentley GTC Roadster, Honda NSX as well as the super focused Porsche GT4. These cars are combined the well established contenders such as the Mclaren 720s, the Mercedes AMG GT Roadster and GT3 RS to makes for an amazing fleet of cars in 2021
Great Hotels / Good Food - as part of our Supercar Tours and Supercar Test Event packages we hand pick some of the finest hotels as we journey on our way, so you can expect some 5 star pampering, as well as fine dining choices, typical of the countries and regions that we journey though
Professional Tour Guide & Support Team - We know these roads inside out, back to front, which means you get to "push" the cars where it's safe to do so, and cruise / admire the sights where that's more approriate - all the time staying in touch with the rest of the group via high-powered walkie talkie communication devices. All of our Supercar Tours and Supercar Test events feature a professional tour guide / lead car plus support / luggage sweeper, to ensure a safe, secure and comfortable convoy driving experience throughout
Plenty of Fun - well at the end of the day, that's what it's all about, and with a group of like minded individuals sharing their passion for driving and great cars, we try to ensure the whole experience is as light hearted and fun as it can be
Take a look at the planned supercar driving tours in 2021, and feel free to connect to us if you are interested to join!
Choose Your Preferred Package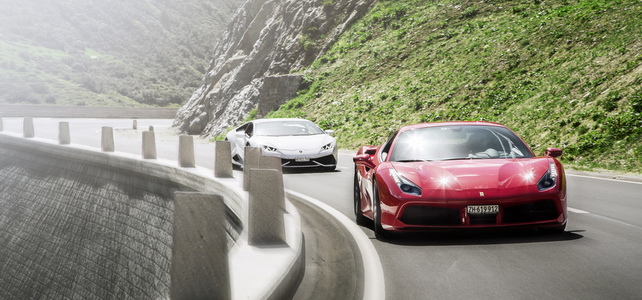 Supercar Test Event in the Swiss and the Austrian Alps - test drive all cars, including the Porsche GT3RS, Ferrari Portofino, AMG GT Roadster and the new Lamborghini Evo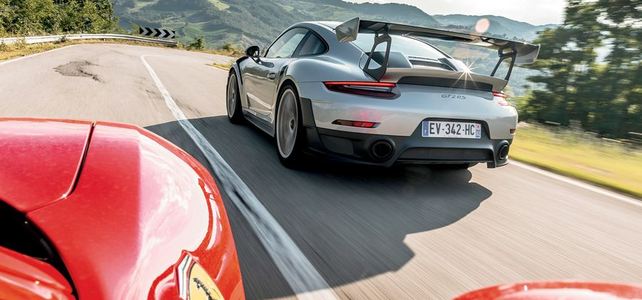 Supercar Test Event in the rolling hills of Tuscany & Umbria - test the most incredible fleet of Supercars on some of the most beautiful driving roads in Tuscany, Italy